Christmas Postcards!
on
December 9, 2013
at
1:09 PM
Post cards here, get your postcards. POSTCARDS!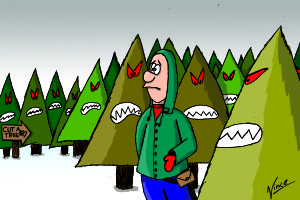 Thats right folks, this year we have our very own Oh-No Comics Christmas postcards for sale in the shop and they are AWESOME! Just in time to send some holiday cheer (or fear) to your friends and family (or enemies, hey I don't judge). They are finely professionally printed on glossy cardstock in full color. They are 100% mailable too!
We have them at the super cool price of $1.00 each or you can get ten (that's right, TEN) for only $5.
We have them here in our very neato BLUEBERRY ARTS SHOP or you can even find them hanging out over at ETSY.
The time is now to get them. Santas magic elves have them on their way to me as we speak and I will get them to you lickity split.
Have a Merry Christmas and keep a weathered eye on your tree.
P.S.: If you don't like to order things on the internet and you live in Eastern Pennsylvania, come out to Phoenixville this weekend (Saturday 12/14 from 3-11) and see me at the FIREBIRD FESTIVAL. I will be there with these and all my postcards, prints and the first two volumes of OH-NO Books.