on
April 22, 2010
at
12:00 AM
Buy the original art for this comic!

by Vince
on
April 22, 2010
at
12:14 PM
Hey hey hey!!! Go on over to Urban Jungle to see the guest comic I did for the awesome comic Urban Jungle! If you never read Urban Jungle before, be sure to click through the archive and read ALL of it, it's a fantastic read!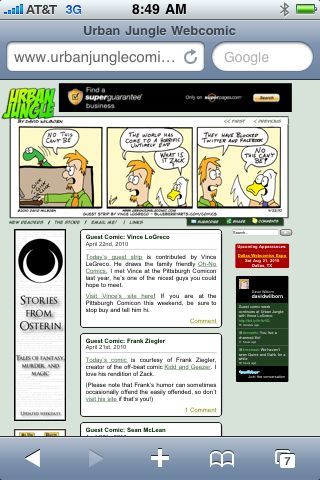 by Vince
on
April 22, 2010
at
12:19 PM
Hiya Folks!
Friday is the start of the 2010 Pittsburgh Comicon!!! I will be found there in Artist Alley and I will have my usual fare of books tshirts and original art. And premiering at the con, (da da da da da da daaaah) is my brand new book, OH-NO Comics and the grand theft chickens. Come out and get a copy signed by me.
Underneath this post is my full color rendition to the front of this years flyer. I have made two prints of the flyer, the first two people to come up to me and mention this blog post will get one of them, signed and numbered. If you missed out on the poster, still mention this blog post and I will draw you a Whiskey Falls sketch card.
Hope to see you there.
click here for more information!